Hatpins: A style necessity, Self-Defence Weapon and a Lapel Pin too.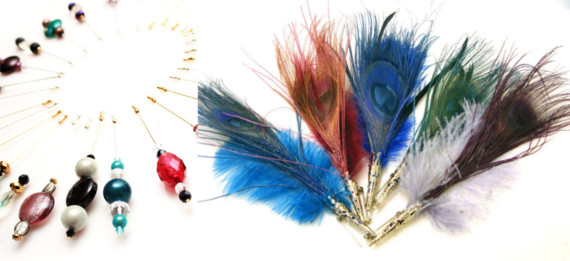 As well as a hat pin they make an eye-catching splash of colour on the lapel or any top and they make an inexpensive original gift too.
The goal is to position the hat at its most flattering angle, and then keep it there. Try it on; take it off, and grasp a little hair where you want the hat to go. Make a tiny ponytail and secure it with rubber bands or bobby pins. Put the hat back on, and then run the hatpin through the hat's brim, through the hair and out through the other side of the hat. If your hair is too short for a ponytail, use a small foam roller. If your hair is long, fashioning it into a bun to start with makes it even easier.
Hatpins, must-have accessories in the Gilded Age, are prized today by collectors and occasionally by women who like to wear big hats. If you've never used one to secure a hat, most milliners have a few tricks that will help, whether your hair is short or long.
They became a fashion necessity in late Victorian and Edwardian times when women started wearing hats rather than bonnets with ties. The hats and hatpins grew ever bigger, until intentional and unintentional injuries with the pins caused court cases limiting their size as lethal weapons. Jazz Age flappers bobbed their hair and started wearing cloches, so hatpins were set aside with occasional fashion exceptions involving big hats likely to otherwise blow away.